Thanks to Dale Gilles (a returned Liberian Peace Corps volunteer and staff member) who keeps his pulse on Liberia, forwarded this article written about Liberia's former President. I want to share it with my followers.
Published May 2023 (verbiage taken from the Forbes article), read the entire article here. However, I have highlighted President Sirleaf's acknowledgment below.
Introducing FORBES AFRICA's 50 Over 50 list – our first-time compilation of 50 women over the age of 50 scaling newer heights and inspiring the next cadre of leadership on the African continent. Age is just a number for them and retirement not an option or the end of the road, as they continue to power their way into history books and the hearts of Africans. From business tycoons to technocrats, founders to CEOs, and activists to entertainers, they have broken barriers throughout their impactful careers, and taken up spaces to ensure others have a voice in those very spaces and beyond. Read on: the senior-most change-maker on this list is 98 and still unstoppable!
Chanel Retief, Lillian Roberts and Marie Shabaya – With inputs from West Africa by Peace Hyde
Ellen Johnson Sirleaf 84 | First Female President of Liberia, Nobel Peace Prize Laureate | Liberia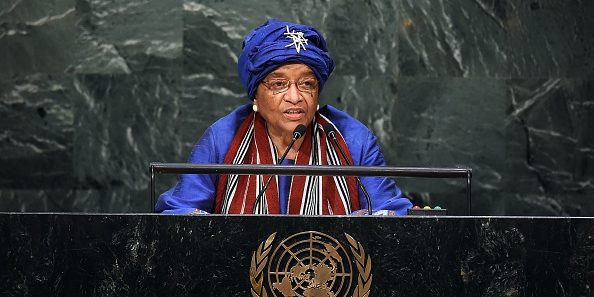 Ellen Johnson Sirleaf made global headlines as Africa's first democratically-elected female head of state of Liberia in 2005, as well as winning the Nobel Prize for Peace in 2011. As Liberia's President, she helped usher in the transformation of the country after its civil war as well as the Ebola Crisis. Sirleaf is the recipient of the Presidential Medal of Freedom, the United States' highest civilian award, and the Grand Croix of the Légion d'Honneur ¾, France's highest public distinction — for her bravery and steadfast commitment to expanding freedom and improving the lives of Africans.
Her two terms as the President of Liberia brought in over $16 billion of foreign direct investment into the country and further attracted $5 million in private funding. She was also responsible for wiping out over $4.6 billion in external debt as well as lifting UN trade sanctions on Liberia. With the country under her direction, she also increased the national budget from $80 million in 2006 to over $672 million in 2012 with a GDP growth of about 7%.
"I am proud of rural women of Liberia being given a voice. In the departing ceremonies at the end of my tenure, women openly claimed their right to participate and provide opinions on social issues, including men in the audience who acknowledge this right," noted Sirleaf in an interview with FORBES AFRICA for the Africa's 50 Most Powerful Women edition in March 2020.
Please add your comments below in the reply box for us to hear your voice about this article.

I envision that Africa will continue to progress with more powerful women in their future. Women who can and will give all African women a voice and be truly recognized as the backbone of their continent. Read my poem written about Fulani Woman, Liberia Woman in this BLOG. This was the image of African women as the strength and beauty of their homeland, but also the hardships of a Liberia woman in my village in the early70s. President Sirleaf, so graciously, wrote the foreword for our Anthology, Never the Same Again: Life, Service and Friendship in Liberia. Susan E. Greisen
Processing…
Success! You're on the list.
Whoops! There was an error and we couldn't process your subscription. Please reload the page and try again.